OUR BILL AUDITS SAVED AGENCIES OVER $200,000,000

ClientFirst has helped hundreds of agencies with planning, reprioritizing, and reducing costs across their IT infrastructure and technology projects.

Significant costs savings are possible through telecom/data services, major IT infrastructure upgrade projects, and VOiP upgrades and implementations. Our projects result in a minimum of tens of thousands and often hundreds of thousands of dollars in savings, both one-time and annually.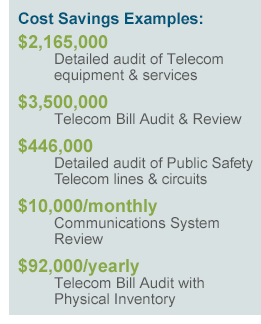 Telephone and data communications bills are notorious for errors and inaccuracies making it difficult for agency staff to monitor and identify savings due to limited information on invoices, confusing terminology and jargon, sheer volume of invoices, and poor customer service from vendors and carriers when trying to resolve these issues.
This workshop will focus on:
Reducing telecom costs
Updating telecom services to reduce costs
Dos and don'ts of eliminating unused lines
Removing unused services
Identifying billing errors
Changing existing systems design to reduce costs
Right-sizing telecom maintenance contracts
Telecom integration impacts to IT infrastructure
---
Saving Source Examples: Point-to-Point Circuits & T1's • 911 • Radio Circuits • Analog to Cellular to Private Fiber Evaluations • Centrex Lines • POTS Lines • Line Features • Spoofing • Review Usage • Data Circuits • Internet Accounts • Rate Applications • Removing Old Numbers (both analog & cellular) • Right Sizing Lines & Services • SIP Implementations • etc.
---
REGISTER
For participation information, please contact Kristel Faye Soriano,
Business Administrator, at [email protected].